Visiting the Komedia and having a good laugh?
The last post on Brighton looked at the Theatre Royal and keeping with this theme of entertainment we look at the Komedia.
Debbie has personal experience of working at the Komedia as Front of House and was lucky to see lots of great shows. There are 2 main theatres 1 large and 1 smaller narrow one.
History
The Komedia was established in 1994 as a venue for comedy, cabaret, music and children shows. Since then it has developed into a popular spot to see, in particular, comedy.
A few years ago, an addition was made with a 2 screen state of the art cinema under the name of Dukes of Komedia. The Dukes of Komedia is in partnership with the Duke of York's Picturehouse the oldest working cinema in England, also, located in Brighton.  This cinema functions along the Art House style, but offers all sorts of screenings and events.  A lot of local film networking events take place in the bar, so you never know who you may bump into?
There is something on every night of the week at the Komedia situated in the North Laines of Brighton. It is about a 10 minute walk from the Brighton train station.
What can you see at the Komedia?
Check their website for upcoming acts.
A few years ago the Komedia also added cinema to its attractions. The Dukes of Komedia has the most modern cinema in Brighton and most comfortable. There is a cosy tiny café upstairs as well as 1 downstairs.
I, personally, have seen a lot of comedy acts.
Over the years there have been some great acts including, before they were celebrities, Graham Norton, Russell Howard and Sarah Millican.
Debbie, of course, is very familiar with the comedy as her job their mainly dealt with throwing out any rowdies or poorly behaved people. You know, the ones who were making the comedians night a nightmare, as well as for the audience.  She was the big shusher, so that things never go out of hand with hecklers.
How much does it cost and meals?
The prices at the Komedia vary and we suggest you check their website as it will depend on the type of show and length. The food is a bit hit and miss, so our suggestion is to eat somewhere else at the many excellent restaurants that are nearby in the North Laines.  You can also get reduced rates on certain shows, package deals or for students, so, once again, check the website to catch one of these!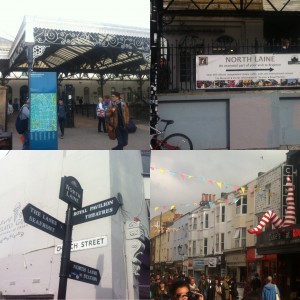 Have you ever been to the Komedia and if so did you enjoy the experience?  Did you know that Hove was the birthplace for film?  Well, more about that later..