Two weeks in Thailand for 90 dollars a day
Our time in Malaysia was quickly over and so our next stop was Phuket in Thailand.
Leaving Malaysia
We took a short flight from Penang to Phuket. Customs was simple and we paid 1000 baht for taxi transport to the Melody Phuket Hotel near Kata Beach, where we spent 9 nights. We decided to spend a bit of time at Kata Beach relaxing at our new hotels pool.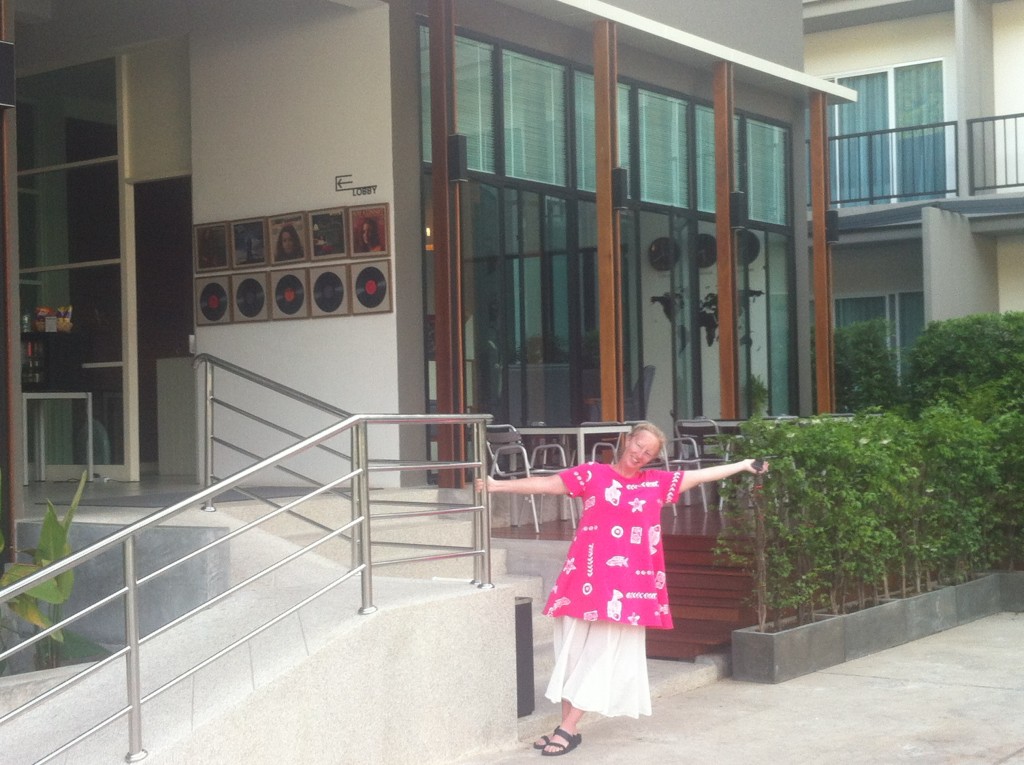 Kata Beach
Kata Beach should perhaps be renamed Little Russia judging by the number of Russians and cyrillic signs. The beach itself is lovely and not crowded. Karon beach, just down the road, is a nicer and bigger beach. We walked along the beach a few times during our stay, and enjoyed a couple of meals and sunsets there.
Food at Kata Beach was a bit of a letdown from previous visits to Thailand. Our hotel served the best meals. Other restaurants seem to cater for Westerner tastes.  We did not do an awful lot at Kata Beach except enjoy our hotel and explore a little of the surrounding area. We decided not to do the islands after seeing the numbers on the boats going out in the morning and instead relaxed at our hotel pool.
Feedback from other people who did the trip out to the islands confirmed it was a bit like the landings on D-Day. In saying that, I have visited Thailand beaches before in earlier visits and been on ones with no people or hawkers and wanted to keep those memories. If you have not been then do go as they are beautiful beaches even with the hordes of people.
The Melody Phuket Hotel
The Melody was one of the best hotels of our trip so far. The hotel is a 3-4 star and only been opened five months ago so everything is new. The  lovely staff are always happy to help with any problems. Ms Poung on reception speaks excellent English and helped us out several times with information or minor problems. The pool almost surrounds the hotel and when we were there was nearly always empty. I spent a lot of time in that pool and loved it. I wish I had remembered to take some pictures of it! The hotel only did breakfast and lunches and we enjoyed both. The bed was comfortable and even though the hotel is near a busy road we heard no outside noise at night. The wi-fi worked brilliantly as did the in room safe. If you are ever in Phuket and need a place to stay we had room 2116 that overlooks the main pool and has a balcony. We spent 7 nights there and on our last two nights were upgraded to room 1112 with direct access to the pool. It was five-star service all the time at the hotel and we were glad we chose this hotel and not one near Kata Beach.
Transition to Vietnam
On our last night on Phuket Island we stayed at Nai Yang Beach Resort Hotel. The hotel is only five minutes from the airport. The accommodation was fine and we got a room by the pool. The beach is minutes from the hotel and there are lots of restaurants along the beachfront. There also is a National Park beside the beach which looked lovely. You would not even know you were beside an airport as the flight path is not over the hotel. We had an early start to Bangkok which went seamlessly. On arrival at Bangkok we stayed at the Amari Don Mueng hotel. Our flight for Hanoi left at 6am the next day. The hotel was lovely and we may even stay again on our return to Bangkok to get our connecting flight to India in June.
What did our two weeks in Thailand cost?
I got out 24,000 Baht or US$730 and spent US$340 on accommodation with a credit card. The total spend for 12 nights in Thailand was US$1070 or US$90 per day. The above included all our meals, laundry, several massages and a few taxi rides. All in all it was a great few weeks relaxing before we headed off to Vietnam.
Melody Phuket Hotel accommodation cost for nine nights was £238 or US$368
Nai Yang Beach Resort Hotel for one night was £26 or US$40
Amari Don Mueng Airport Hotel for one night was £37 or US$57
Our next stop is Vietnam and Hanoi.