Head-Smashed-In Buffalo Jump visit
On our way from Calgary towards Lethbridge a few days ago we visited the World Heritage Site Head-Smashed-In Buffalo Jump. The site opened in 1987 and the interpretative Centre is built into a cliff. The site is located 18 km from Fort Macleod near the foothills of the Rockies and where the Great Plains meet. The Head-Smashed-In Buffalo Jump site is one of the few places where you can visit to see how Indians before the horses killed buffalo. At this site the Blackfoot used a runner to lure the buffalo over the cliff edge to their death. At the bottom of the cliff the Blackfoot would butcher the bison for food and other uses. Apparently the site got its name from a Blackfoot who wanted to see the buffalo fall so he hid under an overhang to watch the buffalo fall and ended up being crushed to death.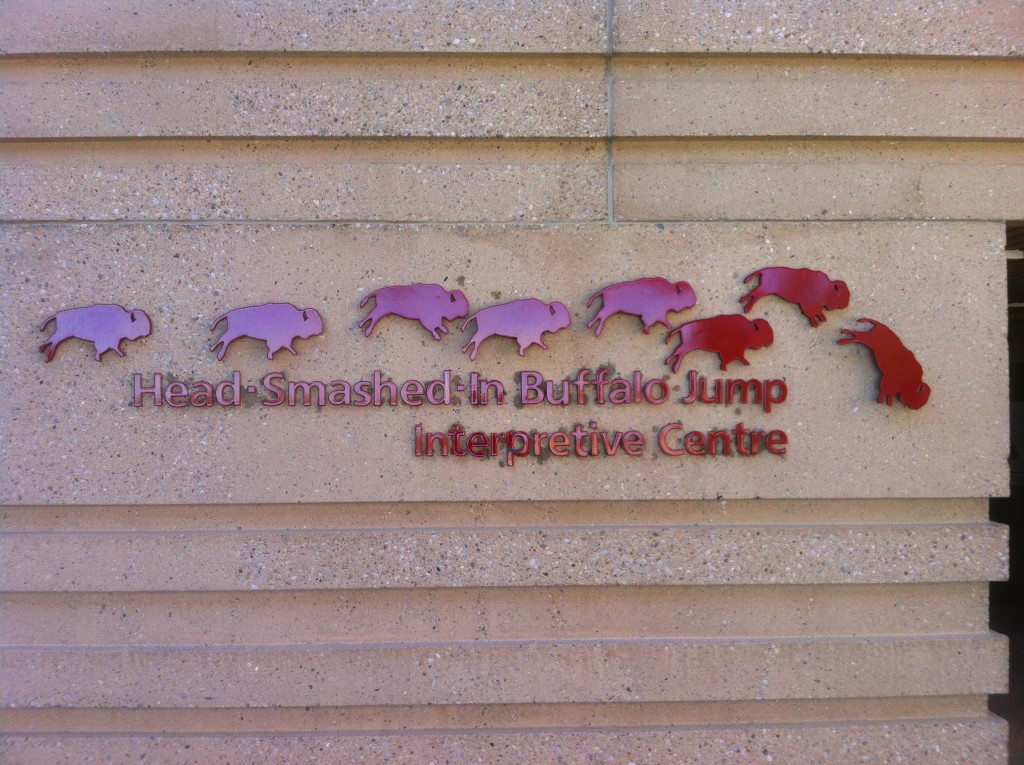 I liked how the centre blended into the landscape. The displays throughout the centre are excellent and some are interactive such as guessing where a bone belongs on a buffalo skeleton. It was a shame that the cafe was windowless and that they had not built it with views of the prairie. To tour the interpretative centre you start at the top and walk along the cliff along a paved pave a few hundred metres to see where the buffalo runner lured them to their deaths. Surprisingly, the cliff is not that high so afterwards injured buffalo had to be killed.
There also is a gravel path below where you can visit the foot of the cliff. After viewing where the buffalo fell you return to the centre and walk down several levels of different displays. The displays tell you more about the history of the Blackfoot, the hunt and the uses of buffalo parts by the Blackfoot and other native tribes. The exhibition ends with information about the demise of the buffalo and the archeological work around the area. Hard to believe there were once 60 million buffalo roaming around in North America 150 years ago and now there are only 500,000.
The site is open all year-long from 9-5 pm and cost $11 per adult. It is well worth a visit and do go and see the movie first about how the Blackfoot would lure the buffalo to the cliff edge and to their deaths.