Wonderful Singapore
I have visited Singapore several times and always enjoy the experience. It's a city where you can always find something new to see or do. The food is excellent as well. In 2010 with my wife, we stayed four nights and managed during my downtime to have a Singapore Sling at Raffles, go to the Zoo to do the night safari tour and enjoy several delicious meals. We stayed at the Swissotel in Merchant Court.
In November 2013 we stayed at the Ambassador Transit Hotel Singapore Changi Airport during a stopover from Australia. The hotel is ideal for an eight-hour break with access to a pool. We had a windowless room which was fine for sleeping and even had time to enjoy the pool.
Top 5 things to do in Singapore
The top five things I recommend to do in Singapore.
1 Just go for a walk down Orchard Road and check out the shops. The road is just over 2 kilometres long with lots of places to stop and eat or have a drink.
2 Visit the Singapore zoo and night safari and the Jurong Bird park nearby. I also would suggest you eat before you go as the food options there are awful. If you feel brave have the little fishes clean up the dead skin from your feet.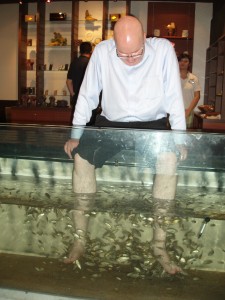 3 River walk from Clark Quay to Marina Bay in late afternoon or early morning to avoid the heat of the day.
4 Enjoy a Singapore Sling at the Long Bar at Raffles but ask the bartender to make one for you and avoid the premade ones at all costs they are awful.
5 Little India for some great budget food options or just find a food market and enjoy some street food.
Do you have a favourite place or activity to do in Singapore?